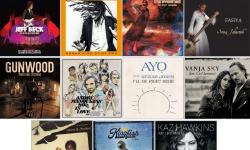 Blues Expression /// Les Festivals De l'été !
13 juillet 2022
BLUES EXPRESSION 10/07/2022
RAJE AVIGNON ET NÎMES
Sylvie DECLAS vous emmène sur la route des festivals de cet été torride, surtout de juillet en débordant un peu sur août. Des événements musicaux qui programment du Blues ou blues-rock, du jazz ou musiques associées. De très grands festivals avec de très grosses têtes d'affiche mais aussi des scènes à taille humaine, plus intimistes, qui permettent d'être plus proches des artistes. En plein air ou même en salle (climatisée), j'espère que vous retrouverez le chemin des spectacles, pour partager de super moments. Certains se chevauchent au niveau des dates, ou ont lieu au même moment. Ce Blues Expression vous permettra peut-être de vous décider, en tout cas vous donnera le choix.
PLAYLIST DE L'EMISSION :
JEFF BECK « I'd Rather Go Blind » (feat. Beth Hart & Jan Hammer) puis « There's no other me » avec au chant Joss Stone, tirés de l'album Live at the Hollywood Bowl de 2017
http://www.jeffbeck.com/ https://www.bethhart.com/ https://jossstone.com/
NATALIA M'KING « Aka chosen » album Woman mind of my own de 2021
HANNAH WILLIAMS & THE AFFIRMATIONS «The only way out is through » album 50 foot woman de 2019.
https://www.facebook.com/HWAffirmations
SONA-JOBARTEH « Gainaako » album Fasiya de 2011
GUNWOOD-« More-feat-Ben L'Oncle Soul » de l'album Travelling Sessions de 2019
https://www.gunwoodofficial.com/
ANDRE MANOUKIAN & CHINA MOSES « So in love » album So in love de 2010
https://www.facebook.com/andremanoukian https://chinamoses.com/
AYO « I'll be right here » feat. Keziah Jones single sorti en 2021
https://www.facebook.com/AyoMusicOfficial
VANJA SKY BAND feat. CARL SENTANCE « MÜHA (See you again) » single de l'album attendu fin 2022
GEORGE BENSON-« The-world-is-a-ghetto » album In flight de 1977
KINGFISH INGRAM «Ssomething-in-the-dirt » album 662 de 2021
https://www.christonekingfishingram.com/
KAZ HAWKINS sur « Feeling good » de l'album My life and I de mars 2022
LIENS VERS LES FESTIVALS OU SALLES CITES
Le Sonograf', au Thor (84250) : https://www.lesonograf.fr/
Festival Jardins Sonores à Vitrolles https://jardinsonorefestival.com/
Festival Guitares en Scène https://www.guitare-en-scene.com/
Marseille Jazz des 5 Continents https://www.marseillejazz.com/
Festival de Robion https://festivalderobion.com/
Les Estivales des Taillades https://www.estivalesdestaillades.fr/
Avignon Jazz Festival https://www.tremplinjazzavignon.fr/
Jazz à Villes sur Auzon https://www.jazzavillessurauzon.fr/
Fiest'a Sète https://www.fiestasete.com/
Jazz in Marciac https://www.jazzinmarciac.com/
Megève Blues Festival https://www.facebook.com/megevebluesfestival/
Jazz à Vienne https://www.jazzavienne.com/fr
Cahors Blues Festival https://www.cahorsbluesfestival.com/